http://people.virginia.edu/~tdw/dunn.location.pspb.2003.pdf
http://www.psych.nyu.edu/oettingen/Barry%20Kappes,%20H.,%20&%20Oettingen,%20G.%20%282011%29.%20JESP.pdf
http://people.virginia.edu/~tdw/current.directions.2005.pdf
http://www.careymorewedge.com/papers/thingsnotsobad.pdf
http://www.theatlantic.com/business/archive/2014/10/buy-experiences/381132/
http://www.nytimes.com/2003/09/07/magazine/the-futile-pursuit-of-happiness.html
http://www.theguardian.com/lifeandstyle/2012/jun/15/happiness-is-being-a-loser-burkeman
Happiness is something we all strive to achieve. Scientists, philosophers, and psychologists have spent countless amount of time, money, and efforts trying to pinpoint the key to true and lasting happiness. There are many schools of thought on how to obtain bliss in our lives and we all seem to think that we know what to do to make ourselves happy, whether it is a bigger house, a promotion, or a beer at the end of a long day at work. Yet, research shows that what we think we know about happiness is often very wrong.
Current, popular outlooks on the subject tell us to focus on the bright side and use techniques like positive visualization, where you mentally picture things working out in a favorable manner. But the reality is that things to not always turn out in our favor. Failure happens. People get sick, fired, cheated on – whether or not you visualize a happy ending. And when these things happen, the people that spent their time not just zeroing in on the bright side fair better than their cheerier counterparts.
Taking a more "negative" path to happiness, requires people to accept that bad things can, and will, happen in their lives. This more honest, and receptive approach allows people be more prepared and level-headed when presented with obstacles. Whereas relentless optimism teaches people to avoid and ignore failures, this approach teaches them to face these hurdles straight on. In this school of thought, one is instructed to think of the worst-case scenario, not the best. In doing this they are able to decrease their anxieties and make them more rational and manageable.
Lets look at an example. First, picture yourself in a relationship. This particular relationship is going through a rough patch and you fear that your partner might be planning on leaving you. We have all been in relationships and know that they can be intense and consuming so it is easy to see how the possibility of a breakup can be very unsettling and upsetting.
Now, instead of putting the possibility of a dissolution of the relationship out of your head to ease your mind as the optimist camp would suggest, vividly imagine it happening. When doing this, people often see that when things go bad, they usually do not go as bad as they had initially thought they would. In the event a breakup did happen, it is highly unlikely that you would never date again, sit home every night and cry, drink yourself into a depression, and becomes a hopeless loser. The reality is, while initially painful, you would get over the breakup. Facing fears puts them into perspective and sets them in a more realistic framework. This is mentally a much safer place to be in than ignoring the breakup as a possibility and then being ambushed by an overload of sudden and intense emotions in the event that it does occur. Dealing with all possible outcomes and consequences and sorting through your emotions ahead of time leads to a better quality of mental health and over all a happier life. People are happier when they do not have ambiguous, unprocessed anxiety nagging them.
In much the same way, the build-it-and-they-will-come concept behind positive fantasies, much like positive visualization, has proved to do more damage than good. Positive fantasies are a form of mental indulgence that people engage in to envision things that they desire in their futures. For example, a law student might fantasize about being the youngest partner in the law firm he hopes to join after graduating. This is thought to be a form of encouragement. By visualizing what you want in your future, it is thought that you will be more driven and focused on getting there. Yet, the research does not support this idea. In 2011, Heather Kappes and Gabriele Oettingen performed a series of experiments to test the effects of positive fantasies on performance. They found that increased time spent on these fantasies was correlated with decreased energy levels and motivation to achieve the envisioned goal. This could be contributed to the mind subconsciously confusing the imagery of achievement with actually having completed the task or goal at hand.
Another place that we fall short in understanding our own happiness is our lack of affective forecasting. Affective forecasting is the ability to accurately assess what it is that will make us feel a certain emotion (Ex: happy, unhappy, angry, love) and to what extent. We are good at knowing what will make us happy in either-or situations. You know you will be happier walking to the subway in 75 degree weather than in 5 degree weather. You know a raise would be more pleasurable outcome to being called into your boss's office than a getting fired. These assessments we are good at. Where we fall short is accurately predicting the duration and intensity of our future emotional reactions. This is what is known as impact bias.
It seems to be a common belief that once you buy a bigger house/ have kids/ lose 10 pounds you will finally achieve lasting happiness. Much in the same way at the beginning of romantic relationships, people believe that they will stay madly, passionately in love with that person for the rest of their life. Adversely, we believe that if we lost a child, got diagnosed with cancer, or got divorced that we would be devastated indefinitely. The truth of the matter is that all of these are false assumptions. Human beings often incorrectly predict that, both positive and negative emotions, will have a significantly higher intensity and duration then they actually do.
This is largely due to our adaptive ability. Our bodies and minds strive to be in a state of homeostasis and constantly attempt to adapt to the environments and situations we are in. When a crisis occurs it activates psychological and biological defenses that regulate us and set us back at a neutral state. The same process occurs for positive events. When someone is overjoyed, their body is in an extreme state of arousal. Their blood-pressure and heart-rate elevates and they are being flooded with a concoction of hormones. Their body can not maintain this long-term so it adjust to bring itself back to "normal."
A 2003 study, conducted by Elizabeth Dunn and Timothy Wilson, at the Harvard University, showed impact bias and the effects of adapting to ones surroundings in college students. The students were shown favorable and unfavorable dormitory assignments that they were assigned to for the following year and asked to rate how happy they would be in those rooms. Their happiness was subjectively rated on a 7point Lyker scale. Not surprisingly, students assigned to the "favorable" rooms rated that they would be happier than those assigned to the "unfavorable" rooms.
Checking back in the following year, the researchers asked the students to rate how happy they were. Regardless of the dormitory that they were assigned to, the average happiness level was almost identical across the board. The students predicted the negative, or positive, visual aspects of the rooms would have much more of an impact on their lives and did not account for how quickly they would become accustomed to living there. This can be contributed to focalism, the tendency to overestimate the extent to which one aspect of a situation will have an impact, while underestimating the extent that other elements or events influence our thoughts and feelings.
In much the same way, many people think they would be happier if they made more money. Study after study has proven that beyond the point of being able to comfortably afford the essentials, making more money is not correlated with increased happiness. The reason for this is that we adapt. If someone is making $60,000 a year and now starts making $100,000, initially they will be excited about this pay increase. Yet, very quickly $100,000 a year will become their new normal and they will no longer pay mind to the growth in income. This process happens surprisingly faster than we think it will.
A third commonly held misconception about happiness is that is the big things that matter. A heart-attack seems much more devastating than a constantly achy back, right? Well it turns out the research doesn't add up to that. When something very bad happens our defenses kick in. As mentioned earlier, as humans we have a unique and powerful set of psychological defenses that are activated in a time of crisis. The problem is that they are not always activated for smaller, nagging issues. A heart-attack is a major problem and will force us to deal with it immediately. More trivial annoyances like a leaky sink or early stages of arthritis are not demanding an instant solution. We may never get around to fixing or dealing with them and overtime they could cause us more grief and stress than larger set-backs.
Another belief commonly held about happiness is that it can be bought and this to a certain extent can be true, but not in the way we traditionally think. When it comes to being happy, having a higher income or the latest and greatest version on something isn't going to do it. Things don't equal happiness. So when it comes to money and happiness, research shows that it is best spent on experiences, instead of things, and on others, instead of yourself.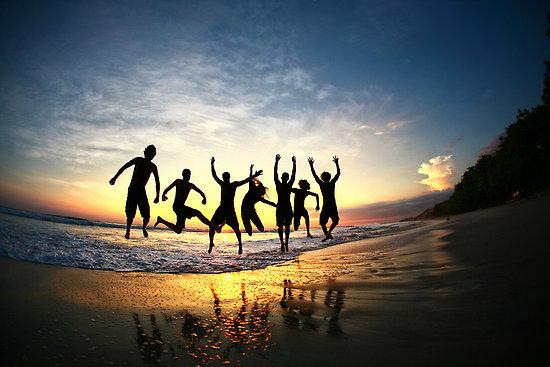 Forty-seven percent of the time the average mind is wandering – during work, talking with friends, even during sex. Happiness on the other hand is found in in-the-moment experiences. Buying things does not stop the mind from wandering but having an event to look forward to or a pleasant experience to reminisce about does. Furthermore, purchasing an item can be exciting but the excitement wears off quickly whereas the memory of a fun trip or rewarding event lasts longer.
So now that we know that we didn't know all that much about what makes us happy before, where do we go from here? Based on recent studies and empirical evidence, here are some tips to live a happier life:
1) Better Affective Forecasting – Get in touch with how you really feel when you get something that you've been wanting. Pay attention to the intensity level and duration of the emotion(s) attached to obtaining it and use that information to make more accurate decisions in the future. If buying that new car didn't keep you ecstatic nearly as long as you thought it would, maybe the money could have been spent better elsewhere. At least now you'll know for future purchases.
2) Put Things into Perspective – Now that you know about impact bias, apply it to your everyday life. You're now aware that in the event that you get fire/ dumped/ evicted/ mugged that it is scarier in your head than it will be in reality. You also know that the secret key to your happiness is not getting married/ promoted/ having kids. Knowing that these things don't lead to never-ending happiness will help you understand that is has nothing to do with you when the initial grow wears off.
3) Face Life Head On – Optimism is great but it doesn't make you any happier. So skip the positive visualization and fantasies, take off those rose-colored glasses and look at the world realistically. Decrease your anxieties and put yourself more inline with all of the possible scenarios you might be faced with by accepting that failure is an option and know what to do if it shows up.
4) Pay Attention to the Little Things – Buying your dream home or getting married are wonderful events that you put a lot of time, money, and effort into and they will make you happy but remember they are one time events. The smaller, seemingly inconsequential things that you deal with on a daily basis are just as important. Knowing that these things have a significant impact on your level of happiness opens the door for you to stop brushing them off for "another time." Deal with the minor annoyances and notice and embrace the small things that make your life more enjoyable.
5) Spend Money on Experiences, Not Things and on Others, Not Yourself – Money doesn't buy you happiness but what you do with it can put more joy into your life.